CUBAN LATIN SUMMER CAMP AT IDRÆTSHØJSKOLEN BOSEI
Destination: Idrætshøjskolen Bosei, Præstø, South Zealand, Denmark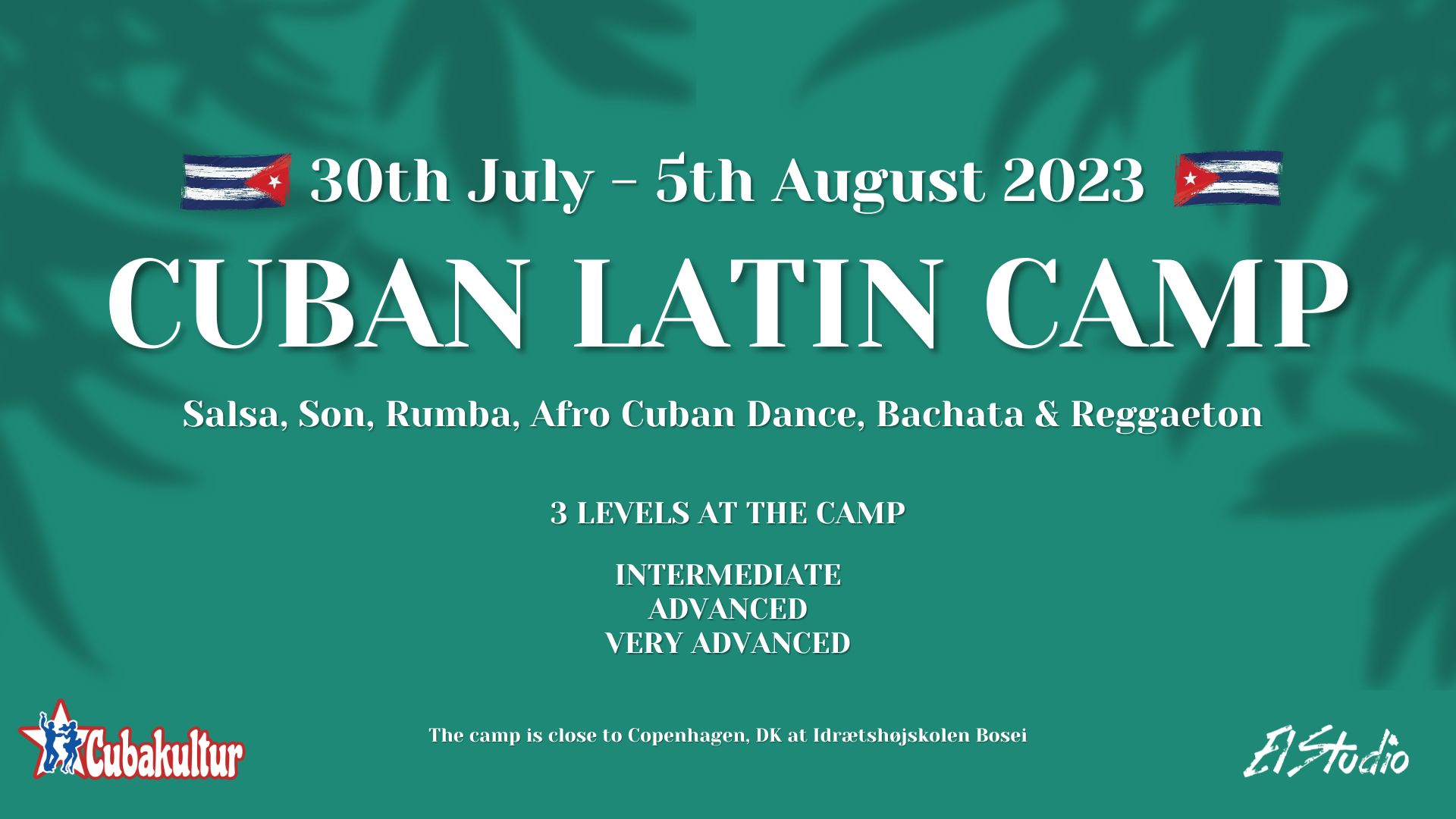 CUBAN LATIN SUMMER CAMP  AT IDRÆTSHØJSKOLEN BOSEI
week 31: Sunday 30 JULI - Saturday 5 AUGUST 2023
We welcome you to a fantastic camp with plenty of Latin dance Salsa, Bachata, Son, Rumba, and Reggaetón and more.
If you are into Cuban and Latin dance, this is the place to be. Come and get a lot of inspiration during your summer holiday, an experience of a lifetime, meet new people and dance a lot of amazing would famous  dances.
The camp takes place at Idrætshøjskolen Bosei near Præstø in Denmark. We have held Summer Camps since 2004, and have classes for several levels. Anyone can participate, both singles and couples.

At this camp we have 3 different levels in Salsa: Intermediate, Advanced, Very Advanced. For Bachata you do not need to be on an Advanced, Very Advanced or Masterclass level, to be able to participate. We also have open level classes in Bachata.
If you have another level in Salsa, then you can join our Salsa Camp in (week 30), where we have 2 more levels to chooes from, also for improvers and intermediant. At this camp in (week 31), we have space for only 100 people, as we also have another dance camp running at the højskole the same week, only for women and girls.
We have a discount of 1000 DKK if you sign up for both the camp in week 30 and 31.

At the camp in week 31, there are 5 hours of classes and workshops daily with breaks, spread over two sessions a day. The classes take place in different rooms.

In addition to a lot of wonderful classes, there are lectures and parties in the evening.
Each year there are approx. 30% couples and 70% singles from the whole country, as well as the rest of Scandinavia and some from the rest of Europe, who participate in our fantastic Camp.
THE CLASSES
All of our instructors are super professional and among the best in the world.The classes are very intense,  in the morning you are in the same class 3 houre with some breaks, with different teachers. In the afternoon when we have 2 houre workshops, it is completely optional which instructor you choose, and you can change every day as it suits you the best.
You can register for the camp without a sign-up partner or with a sign-up partner.
If you want a discount, you must find a sign-up partner of the opposite sex. You can try to find a friend yourself who wants to participate (it doesn´t have to be someone who are at same level as you or someone you are living with) and you register individually. The discount will be returned to your card just before the start of the camp. The registration partner must register no later than 48 hours after you registered, in order for you both to receive the discount. We try very hard to have the number of men and women evenly distributed, and it almost always works out perfectly. If you already dance, then just ask someone in your network, if our wonderful Camp would be something for them.
THE TEACHERS AT THE CAMP
The teaches at the camp is:  Danger Rodriguez Perez, Marielkis Hernandez, Seo Fernandez, Eneris Mulgado Veitia, Yunaisy Farray, Alexander Carbo, Yuni Oviedo Robertson, Demis González Miranda and musicians: Tony Moreaux Charon, Henri Benítez Hourrutinier, Jaime Herrera and more.
Previous participants: 
"Worth to experience - The best place to learn/develop your dancing skills. Definitely worth checking out!!"
"Cubakultur and ElStudio host the best Salsa Camp in Denmark"
"El mejor Camp de Dinamarca - no te lo pierdas!"
STAYING AT BOSEI
Our Cuban & Latin Summer Camp takes place an hour's drive from Copenhagen at the beautiful Idrætshøjskole Bosei, Evensølundvej 5, 4720 Præstø
It´s a fantastic location with the best facilities and all of the students have been super happy with the place!
We have previously held the camp at Møn Friskole, Rødkilde Teaterhøjskole and at Langebæk Course and Retreat Center - so we have been around quite a bit. But this place is definitely the best to date.
FACILITIES AT BOSEI
The college's main building was originally a sanatorium, and has since been expanded with Japanese-inspired buildings.
There is a swimming pool, gym, various activity and sports halls, as well as fantastic natural surroundings. There is also a Japanese library, creative workshop, music room and much more. Around the college there is a forest, a lake, football field, tennis courts, mountain bike tracks etc. Kayaks are available, and the college is also close to the beach.
As a course participant, you can freely use all facilities without extra charge.
AVAILABILITY
At this Camp we have space for 100 participants staying overnight in rooms, as well as 20 tents (not large family tents, nor caravans, however).
In addition to this, there is room for 80 more participants at the camp, but those places are reserved for our women's camp, which we run concurrently in the same week.
It is also possible to only participate in the course as a day student and participate in all activities, without living at Bosei.
Read more about Bosei Idrætehøjskole at www.bosei.dk
PROGRAM FOR THE ENTIRE WEEK
Arrival Sunday
Arrival is on Sunday between 16.00-18.00. We will let you know a week before when you can arrive, because it is important that you arrive at the same time as those you are on team level with.
19:00 - 20:00: Dinner
20:30 - 21:00: Information meeting in the hall
21:00 - 23:00: Social Dance
Classes Monday to Friday
*Monday afternoon there is an opportunity to buy dance shoes*
In the evening there is more dancing, where we turn one of the large halls into a salsa disco, so that everyone can practice what they have learned during the day and have fun with each other. We will also have a nice and very affordable bar.
08:15 - 09:15: Breakfast
09:30 - 09:40: Morning meeting 
09:45 - 11:30: Salsa classes
11:30 - 11:45: Break
11:45 - 13:00: Bachata or Salsa. Or Men and Lady Styel classes
13:00 - 13:30: Lunch
13:30 - 15:30: Relaxation (possibly a trip to the beach or a walk in the beautiful forest and nature near the school)
15:30 - 16:00: Coffee and cake
15:50 - 16:00: Afternoon meeting (in the hall)
16:00 - 18:00: Workshops. Choose between: Son, Rumba, Salsa (Men/Lady Styling) Bachata (Men/Lady Styling), Afro-Cuban Dance, Modern Cuban Dance, Reggaetón etc. There will be 10 min. break at 17:00
18:15 - 19:15: The pool is open
18:00 - 23:30: The bar is open
19:30 - 20:30: Dinner
20:30 - 21:30: Lecture: Some of the evenings we have different presentations or dance shows
21:00 - 23:30: Bachata and Salsa Social, the bar is open (Big party night Friday until 02:00)
There is a long break in the middle of the day (Monday-Friday), so you have time to relax, go to the beach (which isn´t far from there) enjoy a city tour or get a nice massage from our fantastic masseuse who is available throughout the entire course.
This year there will be two big parties, both on Thursday where the teachers will do shows and animation and on Friday when we have the gala evening with animation. There will be DJs and a free dance floor both evenings.
Closing party on Friday 4th of August 2023
We finish on Friday with a big party event. This is an open event where everyone can participate. The party is included in the package/price for Salsa, Bachata & Latin Camp participants. Guests who do not participate in the camp can register for dinner and party with or without accommodation.
We recommend buying a ticket well in advance. There is a limited number of spots, and registration works on a first-come, first-served basis.
Saturday is the day of departure
09:00 - 11:00: Breakfast/brunch
10:00 - 11:00: Check-out
NOTE: If you register at the last minute, just send us an SMS to +45 20 98 74 77.